Peut-on rêver mieux qu'un véritable girl band capable aussi bien de ressuciter des chefs d'oeuvre du punk sixties que de vous faire onduler avec un instrumental sleazy ? Loin des sempiternelles comparaisons avec les Headcoatees, les Godzillas ont arraché les instruments des mains de leurs boy-friends pour faire elles même du bruit et composer leurs propres chansons : j'en veux pour preuve ce 4ème EP, "the revenge of the creature" (WO006 - août 99) avec leurs 3 premiers originaux couchés sur vinyl. Et si il fallait vraiment une référence, c'est plutôt du côté des terribles Monks qu'il faudrait chercher. Guettez la sortie du prochain single sur votre label favori, une petite bombe au titre évocateur qui ne vous laissera pas insensible : "Sexually", couplé avec "Glendora" des Downliner Sect (LZ 055 - sortie prévue à l'automne 99).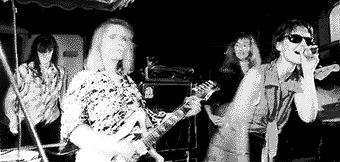 Primitives et sensuelles, les Godzillas vont vous redonner goût à la vraie vie, celle faite de rock'n'roll et de plaisir !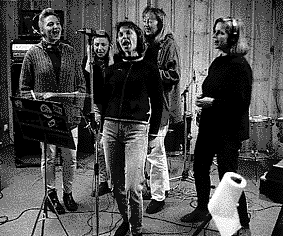 COVERS
Les Godzillas reprennent les Monks, Outsiders, Downliner Sect, Q65, Sam the Sham, Easybeats, Arthur Alexander, The Avengers, Gories, Milkshakes, Lyres, Vindicators, Subsonics, Kaisers, DM bob & the Deficits... et d'autres plus obscures comme les Talula Babies, Roger & the Gypsies ou les Shandells.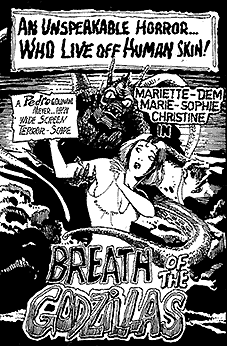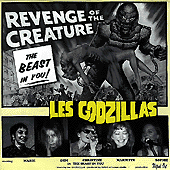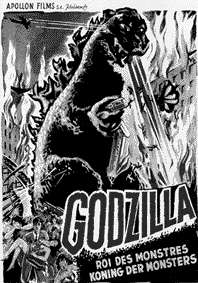 Godzillas discography
1995
compil CD SHAKE & SHAME 1 titre "Be a caveman" (Larsen fanzine FZ010) avec Stems, Nuthins, Breadmakers, Others, DM3, Crusaders...

1996
EP vinyl 5 titres "I love him still" (Larsen recordz. LZ033)
EP vinyl 4 titres "The creatures called..." (Larsen recordz LZ034)
compil K7
"If I didn't love you girl" (Bounty Killers zinen°7 & 8) with Linkers, Pickpockets...

1997
compil K7
"I really want you" (Here fanzine N° 8 ) with the Breadmakers,SSB, DM3...
EP vinyl 4 titres
"The return of the Godzillas" (Larsen recordz. LZ 035)
compil K7
" Bloody Baby" (X-Plosion fanzine N° 1 ) with the Out 4, Old Babes, Feedback...

1998
compil LP "WILD & GROOVY" "Shut up" (Larsen recordz LZ 044 ) with the Bogeymen, SSB, Jekylls, Out 4, Gorgons,Cry babies...
compil CD "GIRL GROUPS vol1" "Pass the hatchet".(Spinout rds- Usa) with 5,6,7,8's,Holly Gollighthly, Diaboliks, Girl Bomb.
compil CD
"Hurtin'Kind" "I love him still" (Rock Hardi n°27) with Juniper, Moonstruck, Dickybird, God is my copilot...

1999
EP vinyl 3 titres "the revenge of the creature" Wiped Out WO006

2004
LP 10" 8 titres "Greedangelamento" (Larsen Rdz LZ055)